Eppes In Atlantis!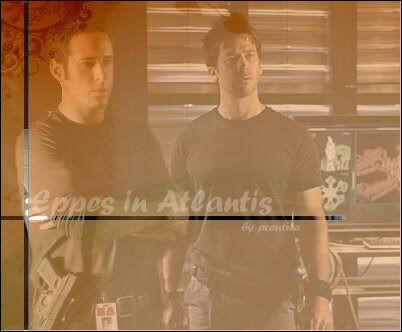 That took me FOREVER to do. Seriously. The original image was of Sheppard and Weir (who did
not
want to go away - damn her hair! It was so curly it took me half an hour to cover it up *grumble*) and then I had to find a good picture of Don - which is next to impossible to do when you consider that:
A.) He's usually wearing a suit.
B.) If not in a suit then he's either wearing something that say (in HUGE letter) FBI - which okay, his whole little swat outfit? Totally a turn on (my boyfriend's a Marine - what can I say - I like men with guns - yum!) but a horrible thing when you're trying to find a good image.
But, yeah, I'm happy I finally got to finish. It's the first of many. My next image, which is currently in progress, is for Petrellis in Atlantis. Speaking of...
My story status stands as follows:
Eppes in Atlantis Redux
- This is a switched point-of-view piece. We're going to be getting John's POV for the events of '
Eppes in Atlantis
' and actually go a little further into the story. This one is about 40% of the way done, which I'm rather proud of considering I wasn't even suppose to be working on it yet.
Petrellis in Atlantis
- This is about 60% of the way done barring a few rewrites. I will be ignoring most of the events of Season 2 (I'm keeping the amnesia factor to some extent) but I found it too difficult to try to piece together a story from the little we have of the next season so -- I'm working with Season 1. I'm truly struggling with this one because I have an almighty question to answer for myself: should this be Petrelli-cest?
I've also done two things recently. Created a community for my series (

in_atlantis
) and added new characters/pairings/fandoms to the list. Namely, Firefly. Yep, that's right. You'll be reading a Mal in Atlantis story any day now, I'm sure of it.